The Hilton Foods Australia Contractor Management process is completed in two parts: company registration and worker registration, which includes induction bookings.
We suggest you read through the steps before you get started, giving yourself time to source and upload the information about your business and employees who will work for Hilton Foods at its Bunbury, Truganina and Heathwood meat processing plants. A nominated administrator from your business will be required to complete the steps below.
User guides with screenshots can be found on the Help and Resources page.
Let's get started!
STAGE 1: BUSINESS REGISTRATION (CLICK TO EXPAND)
Step 1 > Register a user name and password
Click the button below to find the Contractor Management System where you will register your business.
Start by entering a user name of your choosing, plus your email address and a password.
Your login details will be confirmed via email.
Step 2 > Register company details
Using your new details, login to the Hilton Foods Australia Contractor Management system
Follow the process to register your company by:
– answering profile questions, and
– selecting the insurances and licences you can supply to support your business registration.
The information you enter here will determine your category, and therefore the cost of your registration.
Step 3 > Pay for registration based on category
You will now pay for your business registration and subscription in the system. The cost is for:
– the verification of your company information and documents to WHS standards,
– the management of your profile, including access to local support teams if you need help in the system.
The cost will depend on your category and the complexity of validating your registration. For more information about costs, view the FAQ.
Step 4 > Upload documents to support registration
You will be prompted to upload valid copies of licences, insurances and any accreditation documents you indicated you could supply to register your business in Step 2.
Step 5 > Complete Safety Management System (SMS) review
The final step for contractor registration is to successfully complete an SMS review. An SMS review is an independent desktop review of your Work Health and Safety documents by a qualified WHS professional. The documents you'll be asked to upload for your SMS review depend on your category and may include, but are not limited to:
– WHS / OHS Policy
– Environmental Policy
– Risk Management Procedures
– Systems of Work Process, including Incident Management
– Drug and Alcohol Management
– Emergency Management
– Training Procedures, including Induction Management
– Subcontractor Management (if applicable)
– Continual Improvement Processes
Your SMS questions and submitted documents will be audited within five business days of submission and you'll be emailed if corrective actions are required for you to meet compliance.
Your business registration is complete when both the SMS and document upload steps have been verified and approved.
To reach compliance to work for Hilton Foods Australia, you must next register your workers, purchase their site access cards, and book their inductions in the Role Portal.
Please click to expand the steps below
STAGE 2: WORKER REGISTRATION (CLICK TO EXPAND)
Step 1 > Register a profile for your business

Click the button below to find the Hilton Foods Australia Role Management portal where you will register your workers.

Create your account and login.
The next steps are to add your workers to ensure their compliance to work for Hilton Foods Australia.
Step 2 > Add workers, choose roles and book training
Using your new details, login and add your workers in the system! You'll start by selecting Manage Roles and then Add New Employee. From here you will upload a photo of your worker and enter their personal contact details, address, phone and email.
Continuing through the worker's profile, the next step is to Add New Role. Here you will choose the appropriate Induction Level for your worker and book their online induction. They will be emailed a link and login details.
Click here for more information about the Induction Levels

Step 3 > Pay for worker registration and access card
Pay for your worker's registration and order their access ID cards to work for Hilton Foods Australia.
Worker registration costs $5 + GST per person for profile verification and the supply of a plastic access ID card and e-card. The online induction costs $10 + GST per worker, for a total registration cost of $15 + GST per worker.
Replacement cards are $15 + GST. A tax invoice will be supplied on payment.
Step 4 > Pegasus validates profile and applies roles
Pegasus will validate your worker's profile, and once they successfully complete their online induction, their role will be applied to their profile. At this time, their plastic access ID card will printed and sent, and their e-card sent to their nominated mobile number.
It's important that you keep worker's details up to date. You can login at any time to update your account or their profiles. During registration, you may also elect to invite your worker to the Worker Portal, allowing them to maintain their own profile to work for Hilton Foods Australia.
Process wheel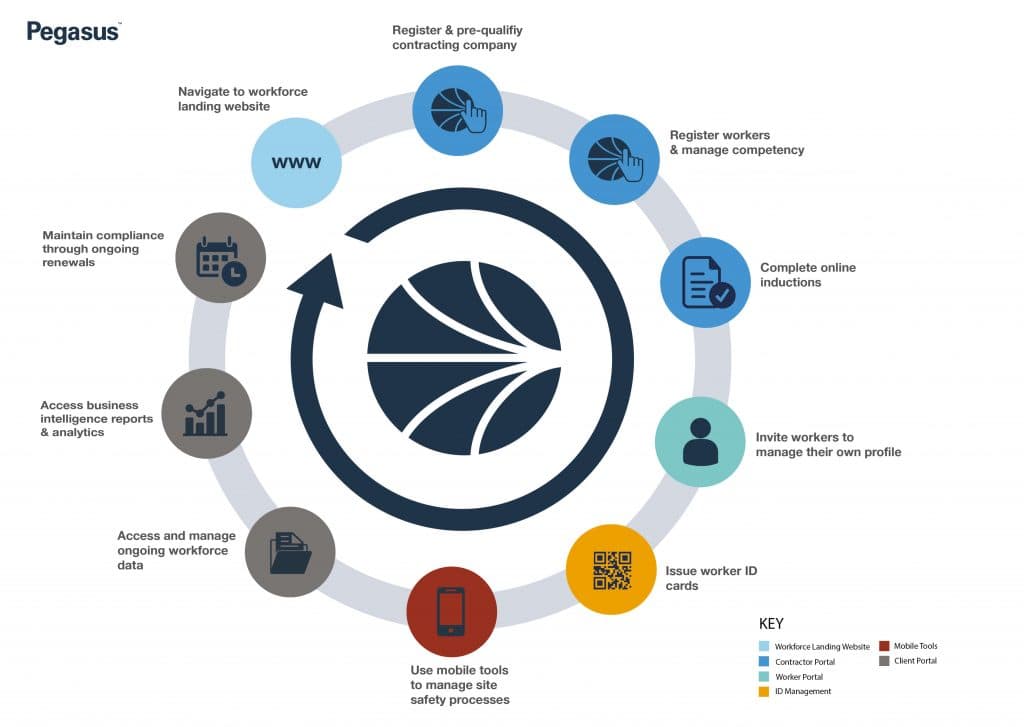 Ongoing system access
Once you have completed both stages to register, the system can be accessed by creating a Pegasus Gateway account, and adding the Hilton Foods tile. This allows you to access both parts of the Hilton Foods Contractor Management System from one place with one login.
We suggest you save Pegasus Gateway to your bookmarks for easy access > login.poweredbyonsite.com